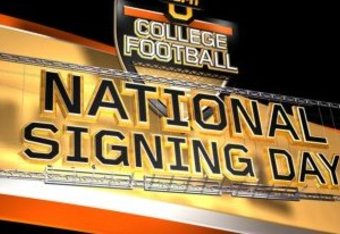 It's February 2nd, Groundhog Day. But more than that...it's national letter of intent day, or "Signing Day" for thousands of high school seniors all over the country.
The halls of Orrville High School will again be the site for several Red Rider seniors to declare their intent to pursue college athletics. And for the second time in as many years, multiple Red Riders will sign their name on the dotted line to play at the Division I level.
Last year it was
Sam Miller
(Kent St.) and
Chase Hoobler
(Indiana).
Hannah Brenner
(Clemson) and
Erin Short
(Eastern Michigan) signed up to play D-1 volleyball. Several years ago it was
Tim Hiller
signing up with Western Michigan, and this year, it will be
Max Pirman
inking his name to a letter of intent to play football for the University of Nebraska, and
Hillary Plybon
signing up to play volleyball at Austin Peay
It's a big deal for the student-athlete, his family & friends, and makes for a good photo op. It's mostly ceremonial, but a nice moment to sort of put a cap on high school playing days and reflect on the years of hard work and dedication.
So congrats to Max & Hillary, and their friends and family...and for the two other student-athletes who will be signing letters of intent today.
Zach Wasson
will be signing on to play basketball at Malone and
Sara Aultz
will play volleyball at Edinboro.
Signing day also gives me a good excuse to again point to the
"College Riders"
section of this site. Give it a look and let me know if I'm missing anyone playing college sports. I wont add any of the new signees until summer or fall (once they officially appear on the college rosters).
Videos from YouTube
Also in the spirit of signing day, here's some highlight videos from our football players. Websites like ScoutingOhio have really revolutionized the football recruiting scene, and if I can help a student get some recruiting attention by posting their videos here, then it's the least I can do.
Max Pirman - TE/DE - Class of 2011 (Committed to Nebraska)
T'ontre Simpson - RB/DB/Special Teams - Class of 2011
Stewart Turner - WR/DB/Special Teams - Class of 2012
Matt Davis - LB/RB - Class of 2012
ScoutingOhio.com Pages
(some of these contain highlight videos, some don't)
Seniors
T'ontre Simpson
- RB/DB/Special Teams - Class of 2011
Max Pirman
- DE/TE - Class of 2011
Dan Groves
- OL - Class of 2011
Cody Rice
- DB/WR - Class of 2011
Sam Reusser
- OL/DL - Class of 2011
Juniors
Mason Monheim
- RB/LB - Class of 2012
Stewart Turner
- WR/DB/Special Teams - Class of 2012
Dylan Tanner
- K - Class of 2012
***I didn't see anything out there for Drew Brenner, someone send me a link if I'm missing it.
Sophomores
Kyle Lichti
- QB - Class of 2013