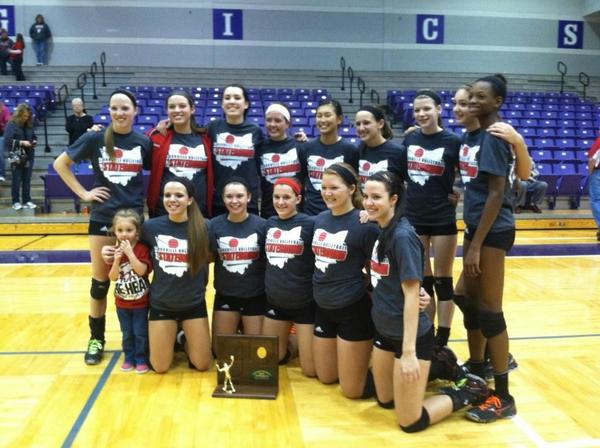 Wanted to send out best wishes to the Orrville volleyball team and staff as they prepare to play in the Divison 3 Final Four tomorrow in Dayton at the
Nutter Center
on the campus of Wright State University.
It's the Riders 3rd trip to the final four
since 2003 when they won the Division 3 state title by beating Versailles
in two games.
Orrville will take on Columbus Bishop Ready at 6pm. If the Ready name sounds familiar, it should.
The Silver Knights defeated Orrville for the 1983 Division 4 football title.
It was also the school that the
Orrville boys basketball team defeated in the state semifinals in 2009.
Back to volleyball, the other Division 3 semifinal pits Casstown Miami East (27-1), the defending D-3 state champs and #1 ranked team in D-3, against Bloom Carrol (24-3).
The winners will meet for the D-3 state title Saturday at 5pm. That game will be broadcast on SportsTimeOhio on SUNDAY (not live) at 9pm. So if the Riders win Friday, we'll all have a chance to watch the finals on TV on Sunday evening.
The Riders are playing their best ball when it counts the most...taking 36 of their last 37 sets, dating back to the 3rd set of their game with Canton Hoover back on 9/29. They were down 2 sets to 0 in that game....won the next 3 to win the game, and have only dropped 1 set since. That's pretty
impressive
dominant.
Safe travels to all heading down this weekend. I'll send updates via
twitter
/
facebook
as much as I'm able. Hoping to report on 2 more wins and a 2nd state title for the volleyball program.
As best I can tell, there is no radio broadcast of the game. Some games are being broadcast by radio stations that have teams from their area playing, but not Orrville. If Miami East and Orrville meet in the finals, it's likely that the game will be broadcast
here
. Again.....it would be so neat if we had our own capabilities to broadcast over the web. Wouldn't have to count on WQKT or anyone else to broadcast our games.
We look through the prism of football (maybe a little too much) in this town...but the volleyball team's run has been such a good distraction after a tough football season. It's also been great to see the support of a lively student section. They're showing that you can be a supportive and loud cheering section without having to be disrespectful...a lost art in student sections anymore. Keep it up students!
Good luck & GO RIDERS!!! Also a "good luck" to the Central Christian Comets as they seek a state title in Division 4. They play Friday at noon against Beaver Eastern.