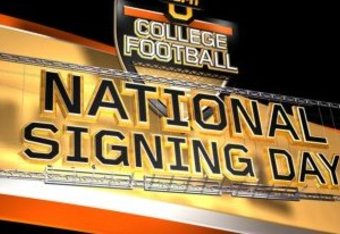 Sorry for the big gap in posting. Been a busy time in life lately.
My wife & I are expecting our 3rd child in May and our other two kids are busy in their own activities. I love doing the blog, but family comes first.
That being said, there's a lot going on in the world of Orrville sports, and I'm going to try and catch up one subject at a time.
First up is a recap of college signing day. We'll hit winter sports and a few other topics in the coming days, but now we'll focus on another great day for Red Rider Nation.
The first Wednesday in February used to mean hearing about Ohio State's latest recruiting class, and it's still that...but it's now becoming an annual tradition to hear about the next wave of OHS athletes to sign with Division 1 schools. This year was no different as 3 Orrville football players signed their name on the dotted line to continue their playing days at big-time colleges.
Mason Monheim signed his letter of intent to Illinois, Stewart Turner to Ball State, and Drew Brenner to Ashland. I think all three have a chance to be impact players and see their field very early in the college careers.
Here's a video from The Daily Record of the 3 Red Riders signing their letters and also some words from Orrville AD Kent Smith and head football coach Doug Davault. Email subscribers
click here to see the video.
Mason
What's interesting about Mason's deal with Illinois is that it appears that Illinois is now
offering 4-year scholarships,
which the NCAA just allowed schools to do this past October.
In the past scholarships were just a one-year deal that had to be renewed by the school each year, pending a student-athlete meeting on and off-field requirements. This is a ton of extra security for Mason.
Illinois seemed to do a real nice job giving their recruits lots of press, both
at the university
and in the local media around the campus in Champaign. Mason was a phone guest on ESPN 1050 AM out of Decatur, IL and on the Tay and J show out of Champaign.
The archive of that boradcast is here
(start the podcast playing and skip ahead to the 29 minute mark). This is a really good interview.
Mason said in that interview that he's up closer to 230 lbs. now and I think he has a shot to play special teams as a true freshman and possibly work his way into the two-deep at inside linebacker by the end of the season. He's got all the work ethic in the world and I'd be shocked if he wasn't seeing regular playing time at LB sooner than later.
In another bit of related news, Mason has also been chosen to play for the Ohio team in the annual Big33 game held in Hershey, PA. The game will be held June 16th and will pit the Ohio All-Stars vs. the Pennsylvania All-Stars. Chase Hoobler & Sam Miller also played in this game in 2009. There's no mention of any Ohio players on the
Big33 website
, but trust me...he'll be there.
Drew
Here's an article released by Ashland University
with bios on all their recruits, including Drew. Notice all the kids from Ashland High School and Norwayne's QB Adam Wallace on the list, and at the bottom of the list, notice Alex Winters from Massillon. He is the son of Orrville grad Reggie Winters.
I think Drew has a shot to play right away, and someone who can help Ashland win games.
Stewart
Lastly,
here's a rundown of the Ball State recruits
, including Stewart. He clearly has the talent and speed to make an impact at Ball State, just a matter of getting an opportunity and grabbing that chance and showing coaches that he's too valuable to not be on the field.
This makes 3 years in a row now that Orrville has sent at least 1 player to the BigTen. In 2010 it was Chase Hoobler signing up to be a Hoosie, then Max Pirman in 2011 signing up to be a Nebraska Cornhusker and now Mason. Not sure too many Division 4 schools in the state can boast that...if any.
This brings the total number of Division 1 football players from Orrville to six. Mason, Stew plus Rhyne Ladrach at Akron, Sam Miller at Kent State,Chase Hoobler at Indiana and Max Pirman at Nebraska.
Having three alums in the MAC and three alums in the BigTen (or whatever it's called now) creates some potential for head-to-head matchups. The one I know of is Saturday October 27th when Indiana & Chase Hoobler will travel to Illinois.
Unfortunately for Orrville fans, that's the same night at the Wooster game, which will again be on a Saturday this year.
I'm sure there will be other chances to see these Riders play, and I'd be first on the bus (or RV...) to watch any of them.
Congrats to all three and best of luck at the next level.